Annual fashion and textiles exhibition
Your opportunity to co-curate a cutting edge exhibition as part of the 2018 Virgin Australia Melbourne Fashion Festival (VAMFF) Arts Program.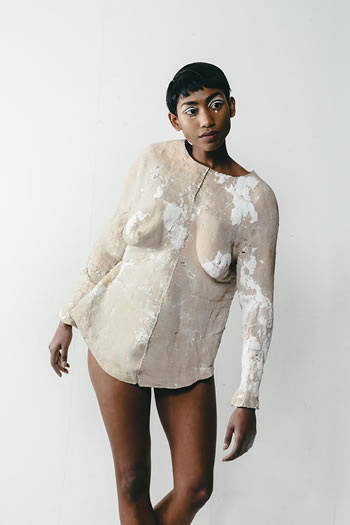 Second Skin. Designer Jordana Halperin.
RMIT students and 2016-17 graduates are invited to be part of the curatorial panel for the 2018 RMIT fashion and textiles exhibition held at First Site Gallery.
Expressions Of Interest (EOI) seeking collaborative curators are now open – more application detail can be found in the Curatorium EOI Guidelines.
The 2018 exhibition will be on display at First Site Gallery, during Feb-March 2018 as a prominent feature of VAMFF: Melbourne's world class celebration of fashion, arts, ideas and creativity.
This is an excellent opportunity to be supported in curatorial skills development within the context of an international festival.
Your exhibition will be viewed by industry leaders from across Melbourne's arts and culture community, providing you with opportunities to develop connections across RMIT and beyond.
How to apply
Submissions are being taken until Monday 3 July 2017, 11.59pm.
Visit the RMIT Link website, create and account, and complete your Expression of Interest form.
Important dates
•Curatorium Expressions Of Interest due: Monday 3 July 2017, 11.59pm.
•Curatorium applicants notified: Monday 17 July 2017.
More info
For more information please contact Creative Arts Officer, Asha Bee Abraham: asha.beeabraham@rmit.edu.au / 9925 2206
To stay informed about arts and culture opportunities a RMIT subscribe to our mailing list.
For more information, email linkarts@rmit.edu.au.
Brought to you by Link Arts and Culture.