Snow activities
Like to ski, snowboard, snow tube or toboggan? Get on the slopes and meet other snow-lovers this snow season.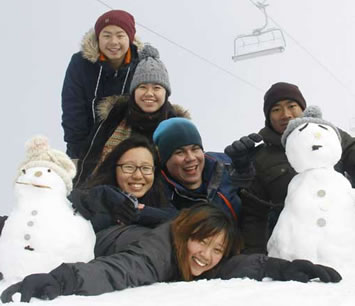 Snow day trips
During Semester there are a number of day trips to Melbourne's closest snow fields. Make a snowman, try tobogganing, have a ski lesson, enjoy the village atmosphere or just throw some snowballs!
Discounted accommodation
If you want to stay overnight at Mt Buller or Mt Hotham, RMIT students, staff and their guests are eligible for snow accommodation discounts.
Please contact the accommodation options below for more information and bookings.
Mt Hotham
Arlberg Mt Hotham offers self-contained apartments for singles, couples and groups up to 12 people. Use the discount code "RMIT" to get 10 per cent discount. For more information, visit Arlberg Mt Hotham, call (03) 5759 3618 or email bookings@arlberghotham.com.au.
Mt Buller
Preston Alpine Lodge at Mt Buller offers dormitory style accommodation with rates starting from $44 per night for RMIT students and staff. For more information, go to Preston Alpine Lodge.
Snow Sports club
You can also join RMIT University Snow Sports (RUSS) club to meet other snow sports enthusiasts. RUSS caters for all ability levels and organises several trips every year, including to Mt Hotham and Mt Buller.