Student support
We offer practical help, advice and support.
Make the most of RMIT with our free services.
Achieve your study goals, stay happy and healthy, and know there is support and assistance when you need it.
Student Support has offices at RMIT Connect:
City campus: Building 10, Level 4
Bundoora campus: Building 202, Level 2, Room 10
RMIT Connect
Access student admin
and support services.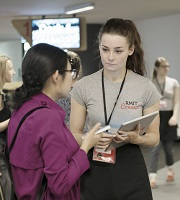 Student support
In an emergency?