News for Students
Featured stories
Catalyst magazine

Brought to you by RMIT Student Union.
Hashtag of the Month

#RMITEurope

24/11/2016

Linking students and researchers to opportunities in Europe.

Join in

Competitions

Airbus Fly Your Ideas

24/11/2016

Showcase your innovative ideas for the future of sustainable aviation. Win to share a $30,000 prize.

More comps

Student made videos

Look Petal

24/11/2016

A real time generative artwork by John Power and Steve Law for the RMIT Design and Play Exhibition.

Watch it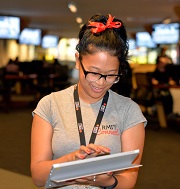 RMIT Connect
Stay in the loop
Got news to share?