Bust a Groove
RMIT's hottest dance competition is back!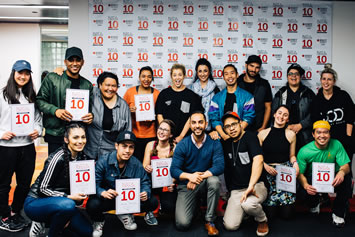 Image credit: Sarah Lay
Bust a Groove 11 takes over the City campus in May, 2017, providing the chance for RMIT students to battle it out for dancing glory.
Played out over two heats of dance, the competition will culminate in the grand finale on Wednesday, 17 May to determine the final winner.
Open to all dance styles, Bust a Groove will showcase both solo and group entries, seeing the winners walking away with awesome cash prizes.
Cheer on your favourite dancer as they battle it out to win the ultimate dancing glory.
Key information
Registration closing date: 5pm, Wednesday 19 April 2017
Heats: 12.30–1.30pm, Wednesday 3 and 10 May 2017
Final: 12.30–1.30pm, Wednesday 17 May 2017
Location: City campus
Styles: The competition is open to all dance styles.
Prizes
Solo - 1st prize: $500
Group - 1st prize: $500
How to enter
Complete the online registration form. If you haven't already got an RMIT Link account you will be prompted to create one. Registrations close 5pm, Wednesday 19 April 2017.
Each contestant will be contacted via email after the closing date to advise if they have been selected.
If selected, the heat date and confirmation of song will also be emailed to you
Note: Ideally all entrants will be chosen to compete, however, in the event of too many entrants, a selected number will be chosen on a first serve basis i.e. the first eligible people to register will compete.
Competition rules
Solos and groups
There are two divisions in the competition: solos and groups.
A solo is one dancer who performs on their own.
A group is comprised of two or more dancers; the maximum number of dancers is eight. A group may contain non-RMIT students, but this number must not exceed more than 50% of the total number of dancers in the group.
Music for heats
When competing in the heats you must perform to one of the ten pre-selected tracks (radio edit version). The ten pre-selected tracks are different styles. You may choose a certain point for the track to be played from. The DJ provides these tracks on the day of the event. You are not allowed to edit the song and must select the part you want the DJ to play from.
If you are a soloist you have 1 minute 30 seconds to perform. Groups have 2 minutes to perform. You do not have to begin your performance at the beginning of the track. If you choose not to commence your performance at the beginning of the track you must advise via email your selected starting point prior to the heat.
Music for the Final
If you are a soloist you must perform for a minimum of 1 minute 40 seconds up to a maximum of 2 minutes. Groups must perform for a minimum of 2 minutes 10 seconds up to a maximum of 2 minutes 30 seconds.
You must supply your own music (no swearing or offensive content is permitted). Music must be emailed as an MP3 file by 5pm, Thursday 11 May. No other music forms (USB, phone, iPod etc.) will be accepted on the day. Failure to submit music by this time will result in either a 10 point deduction from your overall score or disqualification from the competition.
Additional rules
No props are allowed on stage.
No disrobing in a suggestive manner. No excessively revealing clothing. No destroying clothing on stage.
Group members cannot change between heats and finals; only the dancers originally registered for the competition can compete and all group members must perform for both the heat and the final.
Must have fun! This is a competition that celebrates dance at RMIT.
Failure to abide by the competition rules will result in consequences to be determined by the event management.
Contact
Email: linkarts@rmit.edu.au
Telephone: +61 3 9925 1945
Stay informed about all things arts and culture; subscribe to our email updates and join us on Facebook.
Brought to you by RMIT Link Arts and Culture.