Financial support options
There is a range of funding available for all RMIT students undertaking Global Experience.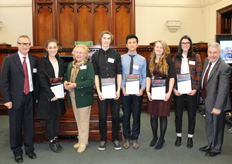 John Storey Junior Memorial Scholarship recipients for Semester 2 2015
(L-R) Ian George (Chair, JSJMS Committee) , Lauren Minicozzi, Judy Cope-Williams (Storey family), Evan Bryce, Linh Nguyen, Monique Banks, Holly Deans, Martin Bean VC
Exchange: If you are going on an overseas exchange program for one or two semesters, you do not have to pay tuition fees to your host institution. Instead you will continue to pay your domestic or international students fees to RMIT. Arrangements for students on Commonwealth Supported Places (HELP) continue.
Study Abroad: Students going overseas on a study abroad program will have a tuition fee waiver at RMIT but will be required to pay tuition fees at their host institution.
Global Intensives: Costs for these programs will depend on individual tours. Students should speak to their Program Coordinator.
When planning your budget for a Global Experience you will need to consider the following costs:
Airfares
Visas
Passport
Travel and Health insurance
Accommodation
Living expenses: food, utilities, transport
Books & study materials
Costs vary depending on your destination. As a guide, it is recommended that you budget at least AU$2,000 for accommodation and living expenses for each month you will be abroad. Many of our partner institutions provide information on the cost of living in their country. It is recommended that you start planning your overseas experience at least six months before you depart.
Financial assistance
OS HELP Loans and Centrelink
Overseas Student HELP loans (OS HELP) are provided by the Commonwealth government to HECS HELP supported students undertaking various international experiences for credit. This loan is added to your HECS-HELP debt and will cover some of the costs associated with going overseas. For most undergraduate and some postgraduate students who are Australian citizens and permanent residents, an OS HELP loan is the best way to fund your global experience.
Find out more about OS HELP loans
Centrelink
If you are currently receiving Youth Allowance or Austudy you can continue to receive payments while on exchange.
Find out more about arranging Centrelink support while on exchange.
New Colombo Plan – study at RMIT Vietnam and other Indo-pacific destinations
RMIT offers generous scholarships to support student exchange to RMIT Vietnam. All eligible Bachelor or Bachelor Honours students who study a semester or year at RMIT Vietnam on exchange will receive AU$3500 New Colombo Plan Grant.
RMIT International University Vietnam is the Asian hub of RMIT University, operating from campuses in Hanoi and Ho Chi Minh City.
RMIT Vietnam offers diverse academic programs (all taught in English), and there are various semester study opportunities available to RMIT students depending on your program of study.
Find out more about cross-campus study in Vietnam
Generous funding is also available for programs in Indonesia, China, Vietnam, Thailand and India. See Go Asia for more details.
RMIT Equity Travel Grant – for disadvantaged students
The RMIT Equity Travel Grant pays up to AU$4,000 to Australian students from disadvantaged backgrounds who are undertaking a global experience for credit. It is dependent on the type and location of the activity.
John Storey Junior Memorial Scholarship – first student exchange
The John Storey Junior Memorial Scholarship pays between AU$3,000 and AU$5,000 to RMIT students going on their first exchange program. This is a prestigious award based on academic merit, community service, extra-curricular interests and previous international experiences.
Find out more about the John Storey Junior Memorial Scholarship
RMIT Global Experience Grants – for students unable to get other forms of funding
Exchange and Study Abroad: For eligible semester exchange and study abroad student experience grants of $1,000 are automatically awarded, so you do not need to apply. Eligible students include international students, postgraduate students who are not supported by HECS-HELP, and VE students. Please note that global experience grants are not guaranteed as we have a limited amount of funding.
Find out more about Global Experience grants
Global Intensives (study tours): For most short term global experiences, such as global intensives, students cannot apply for Global Experience grants directly. Instead the program leader for each global intensive will apply. There are quarterly deadlines for these applications to be submitted.
If you are a Global Intensives leader, you can find out how to access Global Experience grants by visiting information for Global Intensives leaders on the staff site.
Find out more about short term programs
Other scholarships you can apply for
Endeavour Scholarships and Fellowships - study abroad
Endeavour Scholarships and Fellowships are internationally competitive, merit-based scholarships provided by the Australian Government.
Find out more about Endeavour Scholarships and Fellowships
---
Odyssey Travel Merit & Equity Scholarship – study abroad
Applications for the Equity & Merit Scholarships are open to students in their second year and beyond, who are studying at an Australian or New Zealand University. Odyssey awards the scholarships based on academic performance and demonstrated financial need.
Find out more about Odyssey Scholarship
---
Lionel Murphy Endowment - postgraduate study
The Lionel Murphy Foundation Endowment awards AU$40,000 to Australian students for one year of postgraduate study at any university outside Australia.
Find out more about Lionel Murphy Endowments
---
Nicolas Baudin Grants - study in France
The Embassy of France awards the Nicolas Baudin travel grants worth $2,300 to encourage Australian students to study for a semester or a full academic year in France. The applicants must present a study project at undergraduate or postgraduate level.
Find out more about Nicolas Baudin Grants
---
AGA/Goethe-Institut Fellowship – study in Germany
The Australian German Association and Goethe-Institut and offers $6,000 to Australian undergraduate and postgraduate candidates with B1 or higher level of German language skills the opportunity to spend 3 months in Germany, attend an intensive German language course and undertake a research project of their choice within 2 broad areas:
Business / Law / Politics / Engineering (in a business context); or
Arts / Culture / Literature / Music.
Find out more about AGA/Goethe-Institut Fellowship
---
Walter Mangold Trust Fund Study Abroad Scholarships – Study in Chinese, Indonesian, Japanese, Italian or Spanish languages
The Walter Mangold Trust Fund awards between $5,000 up to a maximum of $20,000 to Australian students achieving second-year language level proficiency in Chinese, Indonesian, Japanese, Italian or Spanish studying an accredited full-time exchange or study abroad program in Chinese, Indonesian, Japanese, Italian or Spanish language at an overseas tertiary institution acceptable to the Trust.
Find out more about Walter Mangold Trust Fund
---
Rhodes Scholarships - study postgraduate at University of Oxford, England
Each year, there are nine Rhodes Scholarships available in Australia to enable outstanding postgraduate students - chosen on the basis of exceptional intellect, character, leadership, and commitment to service - to study at the University of Oxford.
Find out more about Rhodes Scholarships
---
DAAD – study in Germany
The DAAD is Germany's largest scholarship-awarding organisation and runs several programs to support academic exchange between Germany and all parts of the world.
These programs range from short-term exchanges for research or teaching purposes to doctoral scholarships lasting several years.
---
Mexican Government Scholarships – study in Mexico
The Mexican Agency for International Development Cooperation (AMEXCID) awards the Mexican Government Scholarship Program for International Students available for Bachelors, Master's or Ph.D. degree students.
John Storey Junior memorial scholarships
RMIT Social Experience Ambassadors