Global Summer in Melbourne
RMIT is offering students from around the world the chance to experience summer in the global city of Melbourne.
Sample life at Melbourne beaches, the Australian Open and a wide range summer of festivals over a two-week study period. You could also extend your stay for a full semester over 14 weeks.
You can study popular courses at RMIT's City Campus in a dynamic and intensive learning environment. Courses are offered in intensive mode over several weeks. Experiential learning is a feature of the teaching approach, with students spending considerable time learning outside the classroom, and engaging with local community, industry, and with a diverse student cohort. A shared program of orientation, social events, weekend excursions and pastoral care is provided to all participants.
All summer school courses are credit bearing. RMIT will provide academic transcripts.
RMIT Melbourne: RMIT is a global university of technology, design and enterprise.
One of Australia's original tertiary institutions, RMIT University enjoys an international reputation for excellence in professional and vocational education, applied research, and engagement with the needs of industry and the community.
RMIT is a world leader in Art and Design; Architecture and the Built Environment; Engineering; Accounting and Finance; and Business and Management Studies.
Dates: January - February 2017
2017 Programs available:
School of Engineering
School of Global, Urban and Social Studies
School of Media and Communication
School of Fashion and Textiles - All courses are taught at the Brunswick Campus.
College of Business
ACCT1046 Accounting in Organisations and Society (unresolved)
Eligibility: Open to undergraduate and postgraduate students from any discipline and from all around the world. Students can apply as:
Exchange Students - Limited fee-waiver places available to exchange partner nominated students.
Study Abroad (Free Mover) Students
RMIT Vietnam: Cross-campus Students
SIM: Inter-location Students
Current RMIT Students - Please contact the relevant School if you want to participate in any of the Summer program offerings.
Contact: global.experience@rmit.edu.au
To find out more and apply, click here.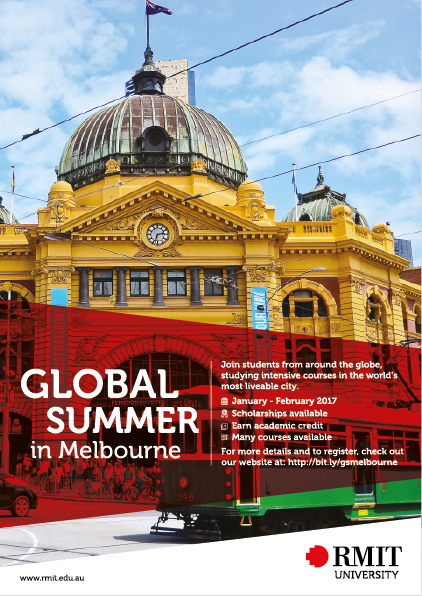 Contact us
Information Sessions
Apply now