Annual fashion and textiles exhibition
ANTHROPOCENE - A new era of fashion.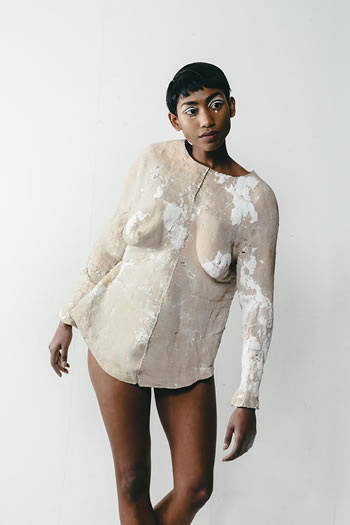 Second Skin. Designer Jordana Halperin.
RMIT fashion and design students bring you ANTHROPOCENE, an exhibition at First Site Gallery co-hosted with the 2017 Virgin Australia Melbourne Fashion Festival.
Now in their 10th year, RMIT's student-led exhibition and accompanying arts programs are hallmarks of the international fashion festival, presenting the University's emerging talent on a global stage.
When: 21 February 2017 - 10 March 2017
Where:First Site Gallery, basement of 344 Swanston Street, Melbourne.
Co-curated by Josephine Briginshaw, Andy Butler and John Brooks
Featuring works by Agatha Partyka, Alison Robinson, Benjamin Sheppard, Caroline Pattle, Gabbee Stolp Georgie Brunmayr, Jess Sansum, Jordana Halperin, Lauralai Wilson, Liss Fenwick, Paul Castro, Pie Bolton, Renae Cusmano, Sharon McEntee, Tara Milenkovic, and Zoe Jackson.
We have entered a new epoch. Geologists have proposed humans to be the most dominant influence on the earth. As ecological systems mutate in response, we must re-imagine our paths forward.
The exhibition presents works exploring this new geological era and its implications for design, textiles, art, and fashion disciplines.
Through the theme ANTHROPOCENE, RMIT students will respond to design issues surrounding human dominance of earth's ecology; explore the relationship between fashion, textiles and our evolving geographies; and forecast pathways for fashion and art in this new era.
Check out the digital exhibition catalogue and program.
ANTHROPOCENE is part of the 2017 Virgin Australia Melbourne Fashion Festival Arts Program.
For more information please contact Creative Arts Officer, Asha Bee Abraham: asha.beeabraham@rmit.edu.au / 9925 2206