Cycling
Cycling is an inexpensive and healthy transport option that gets you from A to B. As cycling continues to grow in popularity, we want to help you feel safe and supported when you Ride2Uni.
Why do you ride to uni?
Get advice from students who ride to uni.
Join the Commuter Community
RMIT is a proud supporter of Bicycle Network's National Ride2Work program, a program aimed at normalising the idea of riding to work (or Uni). Each October the University rallies students and staff to join the commuter community by encouraging them to give riding to Uni a go on Ride2Work Day.
By riding to uni, not only do you get to start your day in a healthier way, you can also improve your overall fitness, learn more about Melbourne's fastest growing transport mode, save money while doing your bit for the environment.
In 2016, RMIT will be celebrating Ride2Work (Ride2Uni) Day by hosting a breakfast event at each campus.
Join the commuter community by registering your ride with Bicycle Network and rolling up to one of our three Melbourne campuses on Wednesday 12 October between 8.00-10.00am. Ride and be rewarded with:
Brunwick campus - Building 514 forecourt
free breakfast and coffee (locate a Ride2Uni staff member to collect your voucher)
giveaways*
Bundoora campus - Sports Centre, Building 203
free breakfast and coffee
free bicycle spot-checks
giveaways*
City campus – Bike Hub, Building 51
free breakfast and coffee
free bicycle spot-checks
giveaways*
Bicycle Network will be on-hand at City campus to provide cycling advice and answer any questions you may have about cycling. Our Cycling club will also be around if you'd like to find out more about social or competitive rides with the University.
You'll also have the choice of getting your bicycle checked by Engineers without Borders RMIT chapter or if you like to get your hands dirty you can take part in a bicycle maintenance workshop. To attend a workshop, you'll need to register at Bicycle Maintenance Workshops.
*while stock lasts
Facilities on campus
Visit Bicycle Information Hub for information on secure bike facilities such as bike cage access, lockers and showers.
Bicycle vending machine
Stocked with all your cycling essentials, the vending machine has you covered from inner tubes, tyres, patch kits, pumps, tools, batteries, lights to toiletries and snacks. The perfect complement to the bike repair station. Find it now at Building 51, City campus. Coming soon to Bundoora campus.
Bicycle routes/maps
Find the best cycling path/route for you using Ride the City.
Cycling etiquette
Before you jump on your bicycle, get familiar with cycling regulations and road rules.
Cycling apps
Get a bicycle
Don't have a bike? No problem! Hire one for the day from Melbourne Bike Share at one of the 50 kiosks around the city. There's even a kiosk outside Building 14 on Swanston Street. Hence, no excuse not to get involved!
From RMIT Security
Please report thefts or any suspicious behaviour to RMIT Security.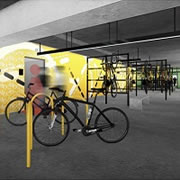 Park, repair and unwind
RMIT Cycling Club