Advice and support
We're here to help you settle into RMIT and Melbourne. We understand that you must have lots of questions; we want you to ask us.
Administration and services
Get involved
Activities and programs
As a student you have access to a huge range of activities and programs from which to develop lifelong skills.
RMIT Link
RMIT Link offers sport, fitness, recreation and arts programs for all RMIT students.
RMIT University Student Union (RUSU)
RUSU is a 100 per cent independent body at RMIT that provides all students with fun events, representation and support.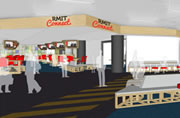 Advice and support