Students
Featured stories
Learning support
Services and facilities
Clubs and activities
Work and study opportunities
Latest news
Fashion summer session in France

17/01/2017

Université de la Mode – Lyon 2 is offering 30 students an opportunity to dive into the extraordinary world of French fashion for three weeks and build an international network.

Networking for young professionals

10/01/2017

Network with likeminded young professionals to help grow a career in international education.

We Sell This City

06/12/2016

The State Library of Victoria is inviting you to delve into its advertising collections, discuss the process of creating advertising campaigns, and hear from design experts about past and present trends.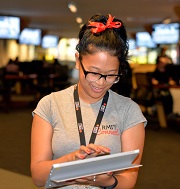 RMIT Connect
Welcome events