Students
Featured stories
Learning support
Services and facilities
Clubs and activities
Work and study opportunities
Why ride to uni?
Get advice from students
who ride to uni.
Latest news
Are you eligible for a coursework scholarship?

18/10/2016

An RMIT coursework scholarship could help you break through financial or educational disadvantage, reward hard work and academic merit, or explore your leadership potential.

Free domain name and Wordpress package

14/10/2016

Grow your digital portfolio, blog or business with a special offer from Host Geek.

Every Second

11/10/2016

Student-run indie electronic record label REMIT Music is offering you royalty-free samples through their new service.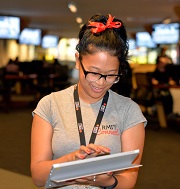 RMIT Connect
Campus Store has moved
Extended Library opening hours