Students
Featured stories
Learning support
Services and facilities
Clubs and activities
Work and study opportunities
Cross-campus study
Explore Asia through RMIT Vietnam.
Latest news
Help shape a future based on safety and respect

26/09/2016

Take part in Australia's first-ever national prevalence survey on uni student experiences of sexual assault and harassment, and it's not just RMIT students being asked to take part but all Australian uni students.

Bleed red and black: Australian University Games

22/09/2016

Get behind RMIT's Redbacks as the Australian University Games kick off in Perth this Sunday.

Fact or Fiction: Does Anybody Care?

21/09/2016

Our Graduate Diploma Journalism students presents this symposium where you will hear from working journalists and editors debate the changing nature of journalism and the challenges for media operators and teachers at a time of disruption.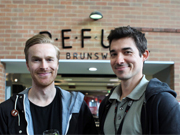 Heard about
Jobs on Campus?
Summer in Barcelona?
RMIT Connect