Students
Featured stories
Clubs and activities
Work and study opportunities
Craftanoon
Getting crafty in the
new Student Portals.
Latest news
7th Model Asia-Europe Meeting

29/04/2016

Here's another exciting opportunity for you to exchange perspectives on Asia-Europe collaborations and build long-term relations with youths from the two continents.

Study in China for a semester on a $7000 scholarship

28/04/2016

Spend a semester studying in one of four major cities in China as part of our Young Australian Ambassador Delegation (YAAD) program.

Green Talents Award

26/04/2016

Submissions are now open for you to become a Green Talent, promote your research in Germany and benefit from an exclusive network of excellent green researchers.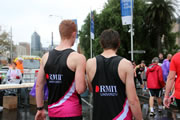 Mother's Day Classic
RMIT Connect