Students
Featured stories
Clubs and activities
Work and study opportunities
Melbourne
World's most liveable
and friendliest city.
Latest news
Core77 Design Awards

08/02/2016

If you're pretty chuffed with the design work you submitted in 2015, then enter it into the Core77 Design Awards and have it reviewed by design leaders from Airbnb, the National Institute of Design and the NY Times R&D Lab.

UNAA World Environment Day Awards

02/02/2016

United Nations Association of Australia (UNAA) is calling for entries for the 2016 World Environment Day Awards.

More than a penny for your thoughts

01/02/2016

Get paid to participate in research studies at our Behavioural Business Lab located on City campus.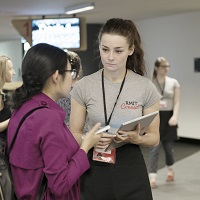 RMIT Connect
Need help with the Library?
Studying at Bundoora?