Students
Featured stories
Learning support
Services and facilities
Clubs and activities
Work and study opportunities
Latest news
We Sell This City

06/12/2016

The State Library of Victoria is inviting you to delve into its advertising collections, discuss the process of creating advertising campaigns, and hear from design experts about past and present trends.

Reimagining India 2017

06/12/2016

The Australian Government's New Colombo Plan is offering a funded opportunity to visit India and to benefit from expert-led introductions to Indian culture, politics, entrepreneurship, innovation, history, economics and business.

New Indigenous elective courses

15/11/2016

Learn about the cultural, historical and contemporary frameworks that shape the lives of Indigenous peoples in Australia and globally.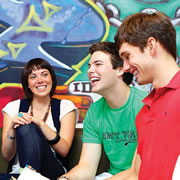 City accommodation
Changes at Swanston Library over summer